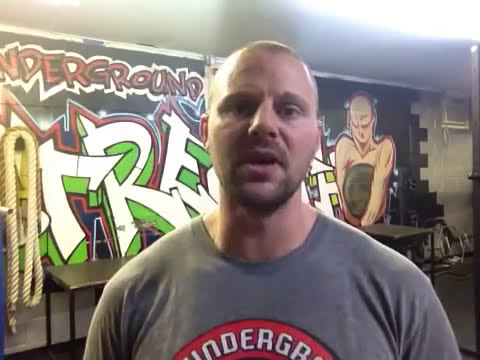 Time to step up your game in training, business and life.
Training IS the business and as an Underground Strength Coach you should be pursuing excellence on ALL levels with relentless passion.

This will be an ass kicker of an experience along with a month of intensive follow up support and coaching from me. The value of this weekend will be priceless coupled with your intensive 30 day follow up of Coaching.

We will limit this experience to 20 Coaches.

To attend this course you need to have completed your Level 1 Underground Strength Coach Certification with me or under another Team Coach.
The Details:
– Each Level 2 Cert is crafted according to the Coaches attending. Your weak areas will be improved and transformed into strong areas, both in training and business.
– Training on Day 1 will be a blend of Kettlebell Training, Program Design Methods Using Special Strengths, Introduction to Olympic Weightlifting, Dialing In Powerlifting Techniques as well as testing you through a training session to make sure you are Living The Code as an Underground Strength Coach.
– Our 2nd day together will be an intensive Mastermind session where we dial in your business & lifestyle. Your obstacles and challenges will be answered with strategic action steps and when you leave you'll have a strategy plan to take your business and lifestyle to the next level.
– Running your training business and / or online business has changed and evolved not just through the past few years but literally through the past few months. The economy, the exposure to information people get, how they are influenced and why they are influenced is all different than the last time you attended your Level 1 Underground Strength Coach Cert.
– You are also expected to bring value to The Level 2 Underground Strength Coach Cert. During our Mastermind you will be asked to share what is working for you in your business, not just to discuss the obstacles. A positive attitude, mindset and lifestyle have to be brought to the table. NO egos.
– I will be sharing with you my new business methods and teaching you what works long term, to not only make it easier and more enjoyable for you to run a profitable business, but also on running a business that crafts the lifestyle you want. This portion alone will be HUGE and is not to be missed.
Psyched to see you and Psyched to help you kick more ass in training, biz & lifestyle.
This is gonna be a powerful 2 days so bring your A Game!
When: 
Times:

Location:
Warning: ONLY Sign Up if You Understand How To Do Work……
Sign Up Here For The Level 2 Underground Strength Coach Cert
Click HERE To Transform Your Business & Lifestyle

Share and Enjoy